Building Buttercream Skills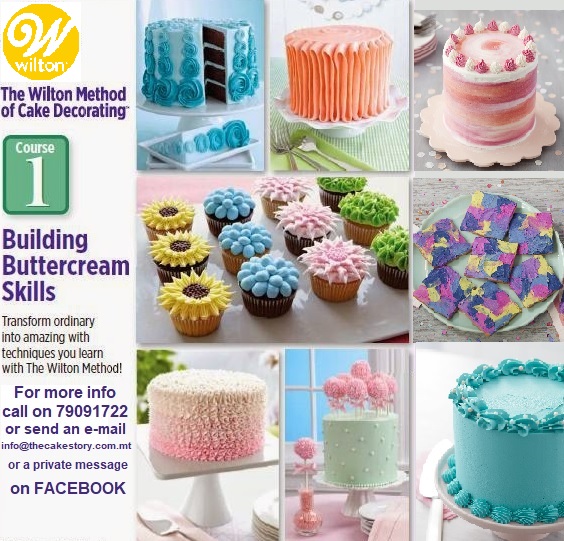 Fresh inspiration and modern cake design are presented in this new class! Learn a variety of classic buttercream decorating techniques, including different piped flowers, which will give you extraordinary results for any application.
In this course you will learn all about buttercream icing. Your Wilton approved instructor will teach you the keys to baking a great cake, how to ice a cake with buttercream, and techniques for adding colour, texture, and decorations to your cake.
The course is divided in 4 lessons of 2 hours each
The following are the subjects covered during each lesson.
Lesson 1
We start with teaching the buttercream basics including giving you Wilton's classic buttercream recipe and teaching you colour accents, the 3-essentials of cake decorating. How to decorate using different nozzles, how to bake a great cake and how to troubleshoot baking problems.
What You'll Be Able to Make After Lesson 1

Lesson 2 
Preparing and icing a perfect smooth cake, adding texture to your buttercream, water colour icing which is ideal for naked cakes and piping gel transfers which will allow you to take your cakes to a higher level.
What You'll Be Able to Make After Lesson 2

Lesson 3
Spatula painting, round tip decorating, more star tip decorating, flowers and succulents. Apart from painting with buttercream during this lesson you will learn how to use 6 of the most popular nozzles which can be used on a variety of cakes and cupcakes as well as how to make different flowers and succulents.
What You'll Be Able to Make After Lesson 3

Lesson 4
Printing, writing, drop flowers, hydrangea and borders plus guidelines for decorating your cake
What You'll Be Able to Make After Lesson 4

Course details: -
Dates:- Tuesday 8th October 2019 from 5.30pm to 7.30pm
or         Saturday 12th October 2019 from 9.30am to 11.30am
Venue:- The Cake Lab, The Cake Story, Triq il-Kapillan Mifsud St.Venera
Price €135
What's included in the price:
1 x  9inch angled spatula
1 x Practice Board with sheets
12 -x 12inch Disposable Decorating Bags
4  x  Standard Couplers
6 x 15inch Parchment Triangles
1 x Flower & Cupcake Nail Set
12 x Course 1 nozzle Tips (#1, 3, 12, 16, 18, 21, 104,  230, 233, 352, 1M, 2D)
1  x Decorating Brush
1 -x Rose Templates - 2pc set
4 lessons of 2 hours each thought by a Wilton Method Certified instructor

Wilton Method course 1 Student Guide

Wilton Certificate recognised worldwide
Send an e-mail on [email protected] or a private message on Facebook or call on 21498214/79091722 for more information on the upcoming courses.