How to choose your edible colours...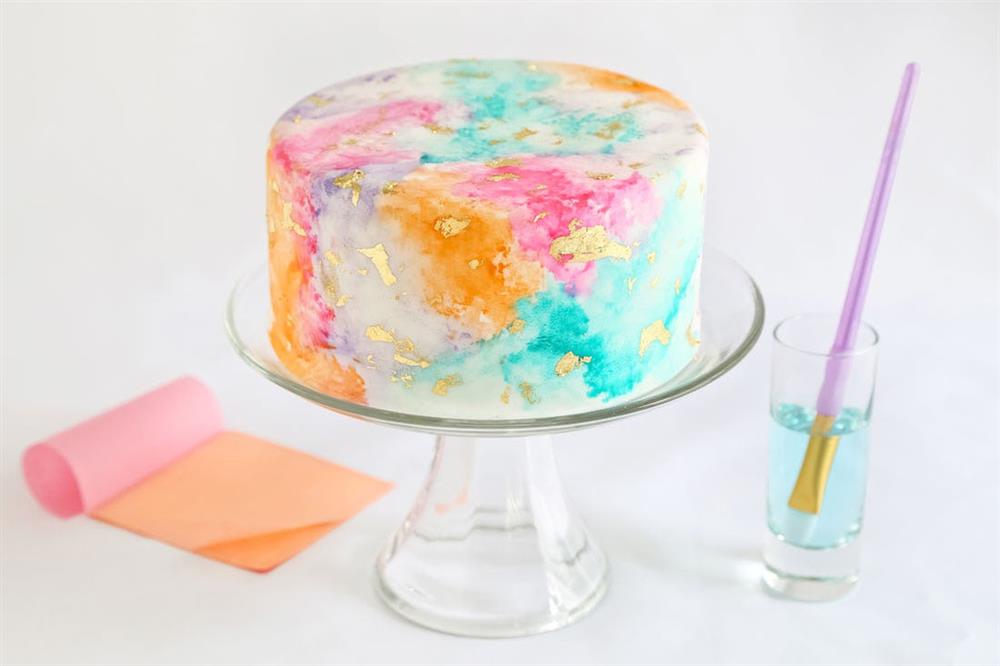 The colour chosen can make or break your cake or any other creation, not only in terms of the actual colour scheme and how they blend together but also in terms of using the correct colour type for the cake, cupcake, fondant, icing or batter you are using.  Using the correct type of colour will save you time and money and will ensure that you get a perfect end result.
Very often the colour palette or the actual colours chosen is determined by the theme of the celebration; a Minnie Mouse themed birthday cake means you will use red, black and white for a baby shower we tend to use pink, blue and other pastel colour whereas for weddings and anniversaries, gold, silver and ivory are the most popular.
In this blog we will explain the different types of food colorus and what they are used for. When buying food colours it is extremely important that you read the labels attentively in order to ensure that the colours you are buying are good for human consumption, as some brands produce both edible food colours and non-edible colours.
Gel colours
Gel colours are used for colouring sugar paste, marzipan, fondant, buttercream as well as flower & modelling paste. The consistency and the concentration of gel food colours vary from one brand to another, Modecor's colorgel range are highly concentrated and are available in standard and pastel colours. All you need to do is add a small amount and watch it transform into your desired colour as it is mixed in.  Each gel comes in a coloured plastic tube, to help you identify the respective colour. The colorgel range are ideal for coloring creams such as buttercream which is perfect for children's birthday cakes. Add a small amount initially and add further if needed.
Sprays
These ready to use products are extremely easy to use and are ideal for creating stunning effects and to highlight or coat sugar paste, chocolate, sugar flowers, buttercream and marzipan thereby giving a distinct look to your cakes, cupcakes and desserts. Edible spray colours are the ideal products if you need a metallic or pearl effect on your creations as they are available in gold, silver, rose gold and in a variety of pearl colours.  Edible spray colours are very simple to use! Shake the can before use and hold about 15cm (6") away from the area you are spraying to apply a light even coat. Once fully dried, you can add more layers to achieve the intensity you need. Follow this video to see how easy they are to use https://www.youtube.com/watch?v=6kPi1hFPVaU. They are a good substitute if you need a spray effect but do not have an airbrush. You can also use spray colours with stencils which will give you a beautiful end result without investing too much time and energy. Spray gun adaptors are very handy as they will give you more control. Spray colours are ideal for creating different shades or shimmer on sugar flowers and models. You can also spray directly on cookies, chocolates such as Easter Eggs, figolli and creams. 
Pens 
Edible writing pens or markers are the ideal product for writing your personalised messages on cakes, cupcakes or cookies as well as for adding very fine details on sugar paste or fondant such as the lips, eye lashes etc when drawing or making a face. The markers come in fine tips and thicker tips, just choose the ideal tip for your needs. We recommend buying a double tip marker as these have 2 tips with different thicknesses.
Cocoa butter colours
Cocoa butter colours are ideal for coloring white chocolate and adding beautiful accents or designs on your chocolate creations such as eater eggs or pralines. Cocoa butter colours are available in standard colours such as red, yellow, green or blue and also in metallic colours such as silver or gold. They can be used with different chocolate moulds and transfer sheets. Learn how to use these products by following this video https://www.youtube.com/watch?v=2RpzALzcsgI&t=11s
 Edible paint
Edible food paint is available in a variety of metallic and matt colours. Apply these ready to use paints straight from their pots to sugarpaste, sugar flowers or to your models, by simply using brushes, just like normal paint, the colours may be mixed to achieve the shade you need and they're great for children to use too, as they are 100% edible. 
Dusts 
Dust or Powdered edible colours are the perfect products for creating different colour gradients or shades, there are over 80 different powder colours to choose from. Some are sparkling whilst other are matt dusts that are ideal for making sugar flowers and to add that unique touch to your 3d models or cake toppers.  Apply the dust gently with a soft dry brush to achieve a subtle look, or mix with rejuvenator spirit to make your own edible paint. To intensify the colour even further, take a dry brush after your paint has dried, and dab on a little more edible dust.
Pastes
Paste colours can be added or kneaded into sugar paste, fondant, buttercream, royal icing, marzipan, flower paste, modelling paste, and pastry. Since these are highly concentrated ensure that you add a little at a time. When kneading into sugar paste add a little with a toothpick to achieve your desired colour. You can also add Sugarflair pastes to your cake batter for example when baking a rainbow cake or when baking coloured cupcakes or cake pops. The range includes vibrant and pastel paste colours.  You can paint with these paste colours by adding rejuvenator spirit.
Learn how to use the different  types of edible colours by following the video in this link https://www.youtube.com/watch?v=3ZzNBK0sZm8
The different food colouring types can be used for a variety of purposes the video in this link explains how different food colour types can be used with sugar paste or fondant, chocolate creams such as panna, butter cream and crema pasticceria as well as in the actual batter of the cake or sponge.
https://www.youtube.com/watch?v=3ZzNBK0sZm8
You can find all the above mentioned food colours in this page https://www.thecakestory.com.mt/edible-colors or at
The Cake Story St.Venera,